Stone & Hardscaping
Hardscaping is the focal point of outdoor environments. Therefore when you customize a landscape it provides a significant enhancement to the property. Stone landscaping design brings excellent value. For instance, it holds accent, beauty, transitions, protections, pavements, enclosing, and various retention structures. in addition, hardscaping can be used for the safety of your family by lighting your paths and providing railings to separate section or protect growth areas.
Furnishing, lawns, and gardens are a good way to add aesthetics. We achieve this by incorporating various essential and desired features. For example retaining structures, patios, stone stairways, paved paths, brick ovens, fire pit areas, fountains, ponds, and water pools. Specific hardscaping also allows the use of gardening areas into playgrounds, pools, and sports courts, etc.
Hardscaping services act as a durable backbone for exterior and garden landscaping. And are not only limited to stones. For example rocks, pottery, lightings, glass, fabric, metal, wood, rubber, clay, and asphalt can be used. Property owners can choose an array of stone options for custom hardscaping. The most popular stones we offer are moss boulders, sandstones, weathered limestone, limestones, cut granite, granite, and flagstone. Here are all of our services available
Hardscaping of Patios, Steps, and Paths 
Patios are great for creating space in the outdoor environment. Whether it's dining, entertainment, or meeting with friends and family. For instance, stairways and paved pathways offer good integration of hardscaping. That is to say, they give inviting and artful looks to the property. For hardscaping of these spaces, any of the above-mentioned stones can be selected.
Get Your Free Quote Today!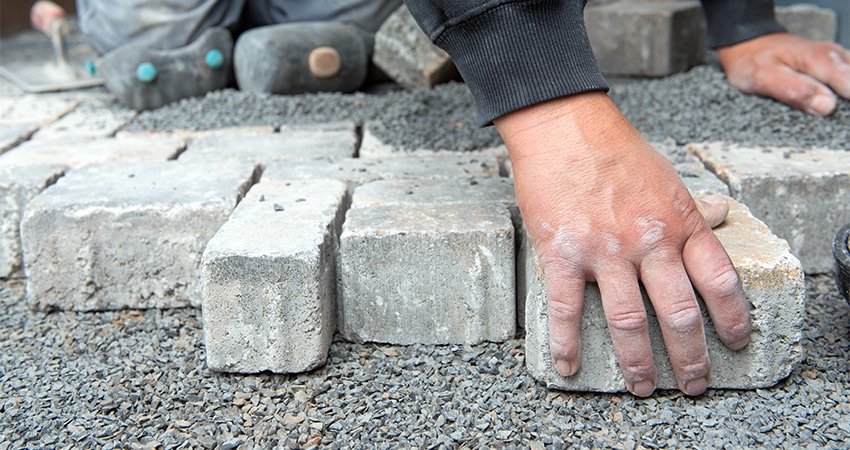 Retaining Structures 
Retaining structures and walls are not always purely functional. Moreover, they can be beautifully integrated with green landscaping. And these structures minimize erosion and properly integrate the landscape into the environment. They can also physically complement the property.
These retaining structures and walls can be built by using cut granite, raw granite, and moss boulders. However, the merging of various materials is also possible to get excellent results. Likewise, these structures can be connected to the patios and paths as a functional element.
Hardscaping Addition and Features 
Landscape designing is not simple. In addition, it's not limited to installing a few structures and stones. Although green lawns, gardening areas, shrubbery, trees, and flowers greatly enhance the environment. The art of hardscaping can intensify the beauty to the next level.
Hardscaping ideas can be modified and customized. For instance, we can design according to the desire and requirement of property owners.
Hardscaping is a Fantastic Way to Improve Landscape 
Creative stone hardscaping can greatly improve the beauty and value of a specific space. In short, it involves the installation of various eye-catching structures. For example, natural stones, stepping stones, and boulders are both functional and architectural features. Our designing approaches are highly sustainable. And we are focused on using excellent quality natural material.
Natural stones are organic and hard, so their life span is longer. In addition, they blend nicely with various shapes and colors. Accenting outdoor spaces without the creation of any artificial looks. In short, our services are much more than the simple laying of pavement and stones. We also offer excellent designing ideas.
Importance of Stone Hardscaping 
Hardscaping is an excellent feature that needs very little maintenance. And the selection of suitable designing perfectly enhances the beauty. Natural stone hardscaping offers efficient use of water and other inputs.
It is especially helpful in water-scarce areas. And also offers great protection to the topsoil layer. Due to enhancement in property value, hardscaping helps people to feel more confident. It allows the extension of various home features in the outdoor environment.
Hardscaping will offer edge and depth that will make the garden look bigger and beautiful. Other than this it also helps to reduce soil erosion and keeps the soil intact and in place. Hardscaping offers a sense of permeance and is visible in all growing seasons.
Together, hardscaping and landscaping offer an excellent combination of fragrance, sight, color, texture, and softness. Like a balance that exists in all other relationships. The management of hardscaping and landscaping elements ensures excellent results.
Supporting Structures
Just like any type of music, and other elements in nature, gardens also have to sing and dance. Hardscaping can greatly help to achieve this target by bringing balance in the form of pavement, benches, and supporting structures. It also adds a good impact in the garden by creating good compression, and its release.
A good example of this can be a gateway at the beginning that connects its opening to the grassy lawn. In this way, it offers a good level of intervention. It allows significant control and draws attention. Bringing the subtle addition of a sense of direction, harmony, rest, and safety. It also offers good visual movement and direction in the form of focal points, and destinations.
Why Us 
We offer the highest client-centered, quality services in Springfield, Nixa, and Ozark Missouri. We seal pavements so that porosity is reduced. That is greatly helpful to reduce damage due to moisture penetration. Additionally, they are creating more resistance due to wear and tear with the passage of time. Stone hardscaping is a  beautiful element that can be incorporated into yards, gardens, and lawns.
Stone hardscaping is reliable. It is the best choice according to budget flexibility, and resilience. Stones are available in a wide range of sizes, and prices. Their shapes can be greatly modified according to requirements in specific areas. Moreover, stones are available in a wide range of color preferences. They can also be used to make eye-catching combinations.
Contact Us 
Our team consists of highly qualified and dedicated professionals and Designers. We offer excellent service in Springfield, Nixa, and Ozark Missouri for the installation of stone-based hardscaping. For quality services to improve the value of a home, and customer satisfaction. contact us
Hiring our services will bring satisfaction and quality. We offer great customization and modification according to the requirement of property owners. Earthworks Gardens offer the most client-centered approach in Springfield, Nixa, Ozark MO