Lawn Care Services Springfield MO
Lawn care requires full-time and year-round activity management. Earthworks Gardens provide the best lawn care services in the Springfield mo area. Our practices are based on many years of experience. our staff are regularly trained and have become extremely knowledgable regarding our local Springfield Missouri climate. If you are a property owner, either commercial or residential, it is important for you to keep a well-maintained landscape. Our landscapers know how to make your green lawn areas, woody plants, and flower beds look their best throughout the seasons.
The health and beauty of a lawn and garden can be greatly enhanced by proper management and care, and we offer excellent services for beautifying your lawn and gardens according to the interest of our property owners.
Earthworks Gardens is a team of highly experienced and dedicated professionals, who are ready to offer our unique and exceptional services according to the needs of our clients, and the needs of the growing areas. We provide excellent services at affordable prices while following proper guidelines, proper monitoring, maintenance, and management so that customers can enjoy a healthy and lush lawn without being involved in the process themselves.
Good growth and development of landscaping, lawn, and gardens need appropriate management practices and control measures. Excavation is an excellent way to boost growth and offers various benefits through landscaping rehabilitation processes. We are providing excellent excavation services, to allow good growth in the coming season. Our excavation services in Springfield Missouri include the removal of patios, walkways, driveways, old concrete, removal of trees, and removal of all plants.
We will efficiently remove all debris, and existing grasses to make a new, unique, and dream lawn. Our excavation professionals are highly experienced to remove all waste and trash. They will not cause any kind of damage to the property value. We remove all the trees and old shrubs along with their roots so that there are no growth chances of previous plants.
Lush and lavish growing lawns and gardens need healthy soil, and the majority of turf grasses can only grow best if the soil is neutral. For this purpose, soil testing is most widely preferred and recommended so that pH of the soil is properly checked, and if there is any change, then depending on requirements, acidic, and basic soil conditions can be neutralized.
We offer excellent lawn seeding services in Springfield  Missouri. We will be properly checking the compatibility of all inputs and growing needs. Seeding is the most commonly used method for planting grasses, and it should be properly managed. Our professional and qualified team offers exceptional seeding services such as fixing lawn problems, including lawn renovation and repairing, watering, and installation of irrigation means, that in turn are proven as highly fruitful.
Fertilization is a key component for healthy and lavish gardens and lawns, as it provides essential macronutrients, micronutrients. It traces elements for growth and development. Fertilizers should always be applied in the appropriate amount as needed by the specific growing species, climatic factors, and soil conditions. Although it seems like a simple approach, any mismanagement may cause the direct killing of grasses.
Moreover, fertilizer requirements are greatly variable at different growing stages and environmental conditions. So, hiring professional services is greatly recommended. We will recommend good fertilizer types, appropriate formulations, and amounts according to the requirements and growing conditions in Springfield Missouri.
Excellent growth, development, and quality yield in lawns and gardens can only be ensured if there are no weeds. Weeds act like competitors with the desired growing species and cause significant depletion of nutrients and water. One of the most important aspects of our weed control services is the identification of weed types, so that remediation measures can be decided according to the nature of growing weeds. Grassy weeds and broadleaf weeds are easy to control and suppress.
Essentially,  if weeds are removed at early growing stages, then the problem will never be getting severe. Earthworksgardens weed man lawn care ensures that weeds are removed before the onset of maturity and reaching reproductive stages. Depending on the severity of the problem, we will also use pre-emergent weedicides, to kill weeds before sprouting, as otherwise, if a rooting system is established, then controlling weed growth will be a difficult approach. We are using an optimum concentration of weedicides or herbicides as an effective strategy to reduce the chances of ongoing battles between lawn health and weed management.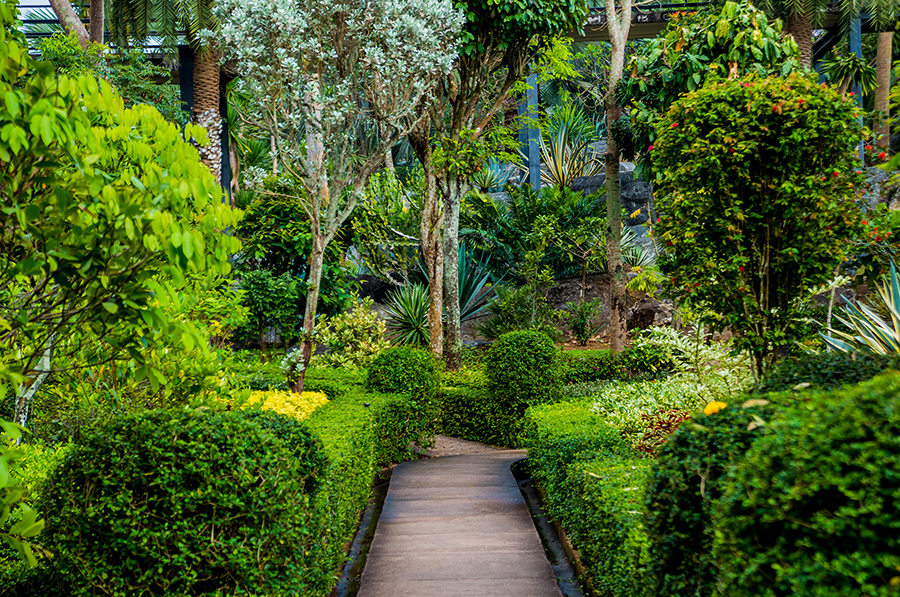 Shrubbery – Tree Maintenance
Implementing proper shrub maintenance is a key factor to maintain a lush green garden. So, the selection of the right shrubs and trees according to climatic conditions in  Springfield Missouri.  And management of other growing conditions ensures the good health of lawns and gardens. Caring for trees and shrubbery is an important aspect of lawn and garden care. proper management leads to excellent outcomes.
Our services for trees and shrubbery care involve inspection of the health of shrubs, plants, and trees. It also insect pest treatment, disease treatment, pruning training, irrigation, and proper application of fertilizers. all kinds of issues are highly specialized to identify by Our expert and technical workers. We also offer the most appropriate solution for immediate control.
Flower beds are essential components of lawn and gardens and offer great beautification and enhance the looks of the property. Flowering beds need proper care and attention, otherwise, negligence may result in weeds, wilted plants, compacted soil, and sloppy edges. Our team of lawn and garden experts is offering wonderful services for both commercial and residential customers.
We are greatly flexible in terms of our services and offer a great level of customization according to the requirements and interests of clients. We are well known for our honesty, integrity, consistency, and professionalism, so customers can rely on us, as we provide excellent services, and will consider their property as our own.
In context to lawn and garden care, we offer excellent hedge trimming and shaping services in Springfield Missouri. Bush trimming and keeping hedges healthy is an excellent way of improving the value of the property. This does not only help to improve beauty but also reduces the problem of bug attacks. These techniques are used to remove dead and diseased branches. so new growth can be observed leading to fuller bushes & denser canopy. Moreover, it can also act as a good source of privacy and will reduce noise pollution.
Earthworks Gardens Lawn Care Services Springfield MO offers classical tree care services.
we also provide trimming to prevent overgrowth on driveways, walkways, and patios. That is why there is no damage to the vehicles. Our dedicated and professional team will provide excellent services to ensure a green and lush lawn and garden.
Lawn Care Services in Springfield MO
If you're thinking "I really need fast, affordable, and reliable lawn care services near me" then you are at the right place.
Get an instant quote for lawn care services near you such as lawn aeration, lawn excavation, lawn mowing, lawn leaf removal, lawn gardening, yard care, lawn weed control, and more. See why we've rated the #1 lawn care service company in Springfield, Missouri.
The city Springfield sits on the Springfield Plateau of the Ozarks. Due to its proximity to the mountainous area, Springfield is known for its outdoor recreation activities. Springfield holds nearly 100 city parks. The Springfield-Greene County Park Board manages 3,200 acres and 103 sites.
Earthworks gardens Springfield MO lawn care tips
While some of these lawn care activities can be DIY, you would be wise to consult Springfield yard service in case you need professional accuracy.
If you fertilize cold season grass, do it during fall as the conditions necessary for growth are beginning to set in.
If you are not sure how to apply synthetic fertilizer and when the appropriate time to do so is, consult Springfield lawn care experts for expert guidance.
Aerate
Aerate your lawn soil during summer- the purpose of this aeration is to make the soil loose. Aerating creates enough space for roots to maneuver and take in as many nutrients as possible.
it is a process that turns the ground around the roots upside-down. In doing so, it allows moisture to penetrate evenly into the soil for the benefit of the grass.
When you are planning to control the growth of whichever type of grass you have on your lawn. the best time to introduce lawn care measures is when it is actively growing.  You can consult Springfield yard service for expert assistance in taking care of your particular lawn grass.
Ensure you get rid of weeds to allow your grass a healthy growth. You can remove weeds physically or by herbicides, although herbicides can sometimes be a health hazard. You will achieve the best results if you adopt a preventive approach against weed growth. A Springfield weed control expert can provide equipment, skills, and advice for strategic weed control mechanisms.