Irrigation and Drainage 
Irrigation and drainage is a necessity for plants and the general health of the lawn and landscape. Above all that health is greatly dependent on the use of appropriate and well-maintained irrigation and drainage systems. Properly designed, and well-managed irrigation systems can give lush growth in the garden along with saving money, time, and energy.
Installation of Irrigation System 
Properly installed irrigation systems are advantageous for various reasons and help to maintain a beautiful lawn. Irrigation systems are long-lasting and are highly efficient. Installation of an irrigation system is a long-term investment and will save huge costs over time.
There are many kinds of irrigation systems, and the best one can be selected according to lawn type, and growth stages of vegetation. Automated irrigation systems are excellent options to ensure the health of the lawn. Moreover, they will be working even if the residents are busy with other tasks.
Additionally, there is no need to worry about too little or too much watering. This greatly enhances the appearance of the garden, along with a significant reduction in water and electricity bills.
The most important types of high-efficiency irrigation systems are center pivot, rain gun, conventional sprinkler, bubbler, and drip irrigation. These systems are highly efficient and provide water from the water source to point of use. This ensures excellent growth, at minimum expense, and effort. This system offers various benefits regarding water and nutrient management and is an appropriate option to resolve various nutritional concerns.
Get Your Free Quote Today!
Installation

After the installation of an irrigation system, the value of the property is upgraded greatly. Subsequently, a vibrant, and healthy array of plants can be achieved. The automated irrigation system is a targeted approach, so it offers excellent benefits for weed suppression. In this system, there is a delivery of a controlled amount of water to the plants.
Weeds will not be getting enough water for their growth and survival. Resultantly, the requirement of spraying weedicides and herbicides is reduced. As a result, this is also beneficial for environmental health. Moreover, the problem of leaf diseases and blights are also reduced.
Installation of Drainage System 
Effective drainage is a paramount challenge in landscaping. Moreover, it is often overlooked, and the health of vegetation is greatly affected. We can provide any kind of drainage according to requirements, either in the form of a catch basin or pipe drainage. The presence of excess amounts of water in the lawn can cause various issues. For example fungus attack, insect pest attack, and development of fungal bodies.
Moreover, too little or too much water in the landscape can destroy the overall health of plants. Over-watering is always associated with erosion hazards. This causes the removal of the top and fertile layers of soil. However, if an automated irrigation and drainage system is installed there is no need to worry about the hazards. As a result, everything is carefully controlled and maintained.
In poor drainage conditions, the soil may become compacted, and heavy, thus reducing soil aeration, and fertility. This is not good for growing plants and should be avoided at all costs. This problem can be avoided by the installation of proper irrigation, and integrated systems. The biggest advantage of this installation is that everything is under control. Most importantly the amount of water application and drainage can be greatly controlled according to weather and climatic conditions.
When it rains, the splashing action of raindrops causes displacement of soil particles. This phenomenon of soil erosion can cause significant damage to the property, and landscape. Improper drainage leads to standing water conditions. This not only causes a slippery surface, but also increases chances of disease attack, and insect pest attack. Moreover, it can cause great damage to the home's foundation. So, the drainage system is essential as it allows proper disposal of water in rainy and stormy conditions.
Why Us 
We offer excellent quality sprinkler irrigation systems. This keeps plants healthy,  grasses green, and significantly reduces water and power bills. Our team is properly trained and certified to install an efficient irrigation system. Proper installation and management of irrigation and drainage systems are essential. Most importantly if it is not managed in the right way, it can cause significant damage to the lawn.
Our services include coordination of separate irrigation meters, regular checks for irrigation, rain sensor installation, pressure correction, microclimate zone designing, construction of different kinds of irrigation systems, installation of master irrigation plans, irrigation evaluations, drip irrigations, and wiring and controller diagnosis.
Moreover, we ensure that each task is properly managed to avoid any problems in the future. Installation of irrigation, and drainage system, will add beauty to the lawn, and will significantly enhance the value of your property.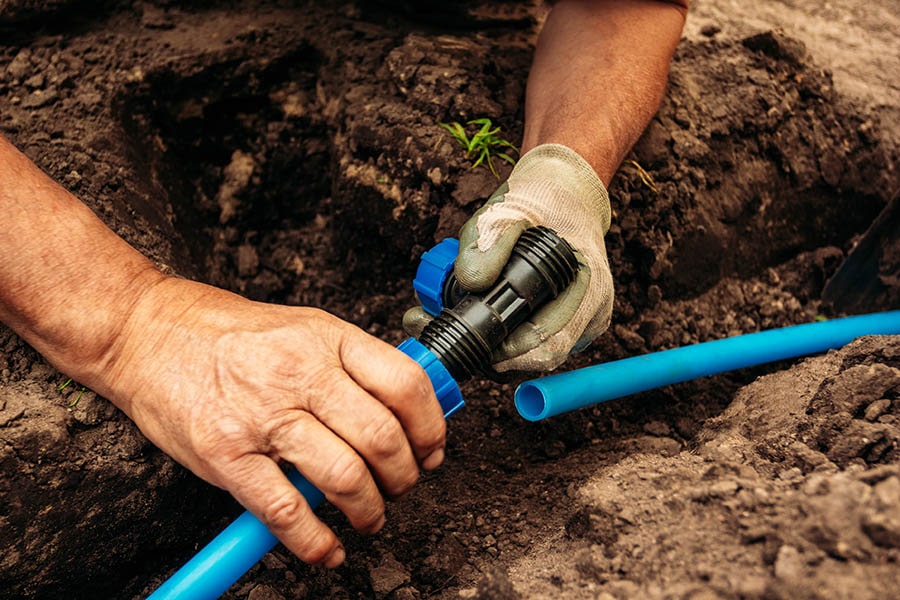 We take great pride in offering all kinds of drainage work. In addition, we supervise and check to make sure that flow is proper to the storm culverts, and sewers. All kinds of catch basins are laid with the help of professionals. Great care is taken to reduce the chances of any error. Most of our team members are licensed, certified, and are working with degreed engineering consultants.
Our drainage services in Springfield Missouri includes rain gardens, sump pumps, pottery plumbing, installation by laser leveling, hydro-jet drainage cleaning, grassy swale, French drains, freeze protection, coordination for fountain installation, dry wells, installation of drainage grate, inspection of drainage, detention system, curb cuts, culverts, and construction of drainage system.
Contact Us 
We are striving for excellence. Above all healthy relationships with our valued customers is our priority and can only be achieved through excellent quality services. Installing these systems allows proper control over growing vegetation.
Plants need water to live but over-irrigation, and under irrigation causes a severe reduction in growth, development, and yield attributes. So, our team of professionals and highly experienced engineers can offer excellent installation of irrigation and drainage systems according to your requirements.